---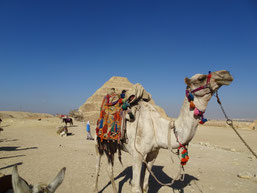 The last column I wrote, "The Power of Subtlety," described the powerful results of finding and treating subtle asymmetries in animals' bodies. There is, however, another aspect of my work that is the antithesis of subtle. Not only is it the opposite of subtle, it is on the opposite side of the world. 
While tropical cocktails and suntans lure many during the off-season, I will be volunteering my veterinary skills in the Middle East. Before I click into my skis this winter, I'll be caring for the working horses and donkeys - and camels - in Egypt and Jordan. If last year's trip foreshadows this trip, I may return with a herd of camels for my parents, and maybe even a new husband.
How Many Camels?
One afternoon last November, a local vet, a support team, and I mounted camels and horses and rode to the Saqqara Pyramids, just south of the Great Pyramids. Men of the nearby village, surrounded by tethered camels and donkeys, waited expectantly for our arrival. In the shadows of the pyramids, we went to work taking care of wounds, vaccinating, and de-worming the animals.
Camels getting shots are about like men suffering from the "man-flu". They are cantankerous, slobbery, and they let out guttural moans.
After successfully avoiding spit-wads and giving several de-worming injections, the local village sheikh decided my camel wrangling skills and veterinary prowess were admirable. With a sideways smile peering out from under his neatly wrapped turban, he pulled me in, looked at the crew I was with and asked, "How many camels for the doctor?"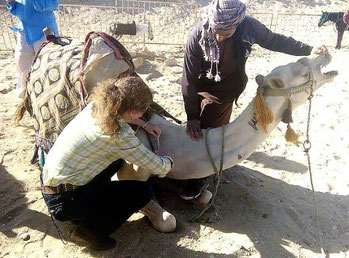 The plight of egypt's working animals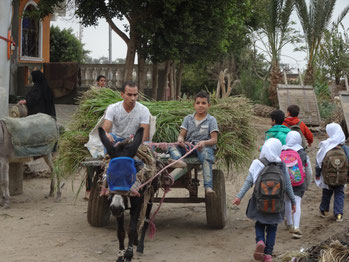 The working animals are beasts of burden. Families rely on them to pull crops to market and haul tourists to famous sites. Their value is also finite. It is cheaper to get a new one than to fix one, and it's cheaper to feed them less and demand more work. There is nothing subtle about the horrendous lives some of these animals lead and the toll it takes on their withering bodies.  
Through a network of caring people, I found my way to a charity outside Cairo called Egypt Equine Aid. Housing up to 65 animals at a time, this dedicated team is tireless. Their services are completely free. They are solely supported by charity donations. Egypt Equine Aid not only provides veterinary care, they also educate owners about animal welfare, and they provide much needed training to improve the standard of medicine offered by local veterinarians.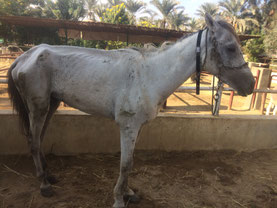 My bags are packed with training materials to teach new vets about treating horses with colic, flushing infected joints, and understanding lameness.
Our days will be filled with feeding starving horses, sewing up massive wounds from cart wrecks, and soaking burning feet from pounding miles on the pavement. We will weep with sadness for the suffering, and gladness for the end of suffering, as we send hopeless cases over the rainbow bridge with peace and dignity they would otherwise not know.
This is the harsh, not subtle, reality of the life and death of working animals. Little by little, Egypt Equine Aid, and other local charities, are easing lives of the working animals and thus the burdens of the people who rely on them to feed their families. I'm grateful to be a small part of it.